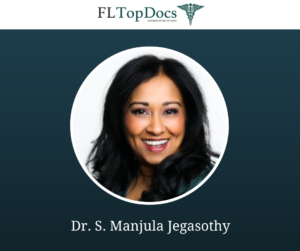 FL Top Docs Proudly Presents S. Manjula Jegasothy, M.D. For 2023
S. Manjula Jegasothy, M.D. of the Miami Skin Institute has been reviewed and approved by FL Top Docs for 2023.  Dr. Jegasothy is a Fellow of the American Society of Dermatologic Surgery, a Diplomate of the American Board of Dermatology and a Fellow of the American Academy of Dermatology. She is also a member of the Florida Society of Dermatology & Dermatologic Surgery.
For years, Dr. Jegasothy has been an advocate of pursuing a "natural look" in  aesthetic dermatology. Known for her gentle technique and "light" but precise injecting skill, she and her thousands of loyal patients agree that the best aesthetic procedures are customized at every visit to ensure noticeable results while enhancing and preserving the inherent beauty we all possess.
As Dr. Jegasothy's practice has evolved to include celebrities and socialites from all over the world, she holds consistently to her original concept of ideal aesthetic procedures. She believes in starting skin care, peels, and low-dose injectables early in adulthood to enhance individual features. Later, her most modern approach includes light Fraxel®, Viora®radiofrequency, and Ulthera®/Ultherapy® treatments to smooth, tighten, and lift areas that increasing doses of Botox® and fillers cannot do in a "natural and non-obvious way."
Before these laser technologies became so effective, aesthetic physicians could only treat aging patients with ever-increasing doses of injectable treatments and surgery, often yielding an "unnatural" or "done" look.
Dr. Jegasothy's generation (Generation X), now in their 40's and 50's, are lucky that her new anti-aging lasers will prevent them from "needing" increasing Botox® and filler doses as they age. 
They will retain the appearance they had in their 30's and 40's well into their 50's by incorporating Fraxel®, Viora®, and Ulthera®/Ultherapy® into their anti-aging maintenance regimens without substantially changing their Botox® and filler dose or frequency.
To learn more about Dr. Jegasothy, please click here.
---
About Us
FL Top Docs is a comprehensive, trusted and exclusive  healthcare resource featuring reviewed and approved Top Doctors and Dentists in Florida online in an easy to use format. FL Top Docs only reviews and approves providers based on merit after they have been extensively vetted.
FL Top Docs is a division of USA Top Docs which allows patients to meet providers online before making their appointment.
For more information, e-mail us at [email protected] and/or visit www.FLTopDocs.com.